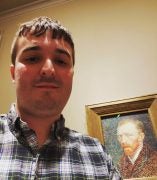 Michael Arnaudo
Academic Advisor
LAS 110 Instructor
College of Liberal Arts and Sciences
Pronouns: He, Him, His
Contact
Building & Room:
University Hall 3rd Floor
Office Phone:
Email:
About
Undergraduate Major: Political Science
Hobbies: Discovering new restaurants, going to concerts and sporting events, hanging out with friends, etc.
Advice for FY Students: Get involved! Even if it is just one club or student organization. Getting involved makes you feel more connected to campus and connects you with like-minded people!
Register for Michael's Section:
Friday 10am-10:50am CRN 35678