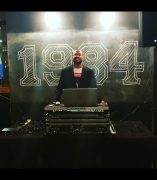 Kelvin Boddie
Academic Advisor
LAS 110 Instructor
College of Liberal Arts and Sciences
Pronouns: He/Him/His
Contact
Building & Room:
University Hall 3rd Floor
Office Phone:
Email:
About
Undergraduate Major: Political Science
Hobbies: Basketball, DJing
Advice for FY Students: Understand that college is a growing process. You are not just going up to the next level of academics. You are also learning how to navigate a completely different environment. It takes time, and you will need to learn how to utilize the resources around.
Register for one of Kelvin's Sections:
Friday 12pm-12:50pm CRN 43484
Friday 1pm-1:50pm CRN 37144