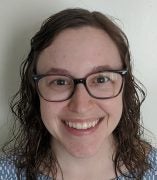 Beth Hopkins
Academic Advisor
LAS 110 Instructor
College of Liberal Arts and Sciences
Pronouns: She/Her/Hers
Contact
Building & Room:
University Hall 3rd Floor
Office Phone:
Email:
About
Undergraduate Major: Mathematics
Hobbies: Reading historical fiction, baking paleo treats, hiking, concert going
Advice for FY Students: It is normal (and perfectly okay!) to question your choice of major and/or career. Take advantage of discussions with your advisor, campus resources and career related events to help clarify your interests!
Register for one of Beth's Section's:
Monday 2pm-2:50 pm CRN 44783
Monday 3pm-3:50 pm CRN 43474