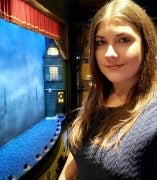 Beth Kravitz
Academic Advisor: Psychology and Integrated Health Studies
LAS 110 Instructor
College of Liberal Arts and Sciences
Contact
Building & Room:
BSB 1070
Office Phone:
Email:
About
Undergraduate Major: Health Education and Behavior
Hobbies: Cooking, eating at restaurants, painting, watching movies
Advice for FY Students: Don't rush your undergraduate years! Trust me, it goes by in a snap! Enjoy this time, explore new areas, get involved, and make some connections.
Register for one of Beth's Sections:
Wednesday 11am-11:50am CRN 43478
Wednesday 12pm-12:50pm CRN 43477