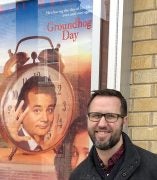 Justin Wier
Director, Recruitment & Engagement
LAS 110 Instructor
College of Liberal Arts and Sciences
Contact
Building & Room:
University Hall 5th Floor
Office Phone:
Email:
About
Undergraduate Major: Journalism
Hobbies: Playing, reading, gardening with my daughters (Eliza, 8 and Violet, 4); Exploring Chicago; Politics, news, how we can build a better community; Biking
Advice for FY Students: College is the best! It's why I have spent the last 22 years of my life studying, working and loving all things College. You get to be around talented, interesting classmates and meet new friends. Get involved, talk to your advisors and professors (we can offer a lot of tips on how to maximize your UIC experience), explore new interests, learn how to learn, and most importantly: have fun.
Register for one of Justin's Sections:
Monday 3pm-3:50pm CRN 43475
Monday 4pm-4:50pm CRN 37883